Robert M. Pickles Jr.
robert@simonhouses.com
Local: 757-694-2979
Toll Free: 877-704-7604
Robert M. Pickles Jr. is the epitome of focus and professionalism in his role as a real estate agent. Originally from Florida, this 35-plus year resident of Hampton Roads knows the area, the market and the industry. The devotion to his clients and commitment to giving superior service resulted in him earning a number of awards including the coveted regional Five-Star Award for client satisfaction every year since becoming an agent. His high energy level and responsive nature makes Robert someone both sellers and buyers can count on when they need to accomplish particular goals.
Serving eight years in the U.S. Navy as a programmer analyst first showed Robert how harnessing the power of technology could open doors. After acquiring extensive training in information technology (IT) and sales, he started his own consultancy business. Soon, he began providing consulting services to several Fortune 100 companies across the country. "Technical consulting, like real estate, is about problem-solving," Robert adds, "I know how to actively listen to learn what my clients' needs are, and carefully help them prioritize so that they have an informed and productive shopping experience."
He decided to take his vast knowledge and apply it in the real estate arena. "Technology's redefined real estate." This active member of the Real Estate Information Network (REIN) user group says, "I typically know about the technology changes that are coming down the road four to six months in advance; that means I'm highly proficient at using that technology for my clients." One of the things Robert likes about this field is being able to look at someone's specific needs and come up with a creative solution. "I enjoy solving problems and love serving people."
Embracing his fiduciary responsibilities is something Robert does well. "I become my clients' consultant, and put their needs above my own." So whether it's helping military families successfully PCS into the area, assisting first-time buyers or helping sellers maximize the profit on the sale of their homes, Robert stays the course. His caring approach sometimes goes beyond that of a typical agent, as evidenced when a recent client without family nearby required emergency surgery upon arriving into the area. Robert became somewhat of a surrogate brother, even visiting his newfound friend in the hospital several times. "It's these kinds of experiences that are hugely rewarding. I become friends with many of my clients, but this one became like part of my own family!"
Robert founded Team Homedog to offer the most efficient service to buyers, sellers and those interested in building new homes. Robert's also developed a niche for helping clients get custom homes built. "I'm extremely adept at helping customers locate land, interview and select a builder and help them through the building process." This motivated agent stays on top of his game because he never loses his zeal for both those he works for and the business itself.
Tearing himself away from real estate can be a challenge, as Robert is so passionate about what he does. But when this avid outdoorsman does take time for himself, he enjoys hunting, fishing and boating. He stays in shape by walking his dog, loves animals and appreciates country living. Robert makes his home in Chesapeake with his wife and Team Homedog's mascot, Mr. Kodi.
---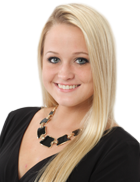 Brittany Lewis
brittany@simonhouses.com
Local: 757-525-4078
Tollfree: 877-503-4870
Brittany Lewis is the genuine article, both in real estate and in life. This enthusiastic agent cares about the clients she serves while infusing the industry with a youthful vibe. A long-time resident of Hampton Roads, Brittany is a wealth of information about local schools, communities, parks and events. She cheerfully works alongside her partner and team member, Robert Pickles, simplifying the buying and selling process for every client she meets. This team's won several awards, further demonstrating their consistent commitment to success.
Even as a teen Brittany had a head for marketing, as she participated in DECA, a national program that focuses on cultivating marketing and business skills to students. She served as president of her chapter DECA and vice president of the entire Virginia Beach DECA. Later, she studied marketing in her college coursework at Old Dominion University. Brittany worked as a server at a local waterside eatery for six years where she sharpened her communication skills, and learned quite a bit about human nature. "I have a knack for talking to people," she adds, "I'm a people person." Her gift of gab puts those around her at ease, and helps her find out details that make it easy for her to locate clients just the right homes.
Born into a family where mortgage origination was a career of choice, Brittany saw from a young age the difference a superior real estate agent could make in someone's life. When she discovered she may be well-suited to this industry, this outgoing buyer specialist took the leap with both feet. "I get to meet so many people and now I get to help them, which is a real passion for me." One of the most important things that sets her apart is that she truly enjoys what she does. "I love my job!" Her optimism is contagious, so clients can't help but smile knowing Brittany is on their side. "I get really excited when a client says, 'This is the house!' Because I feel like I've done my job, and I feel I've served them properly."
"I'm very familiar with new construction in all the cities of Hampton Roads," she says. But this trustworthy agent has much more in her back pocket. Although she specializes in assisting first-time buyers, Brittany helps all types of buyers and sellers from various walks of life. Having an uncle who served in the U.S. Marines deepens her appreciation of military members. "I love working with the military; they have a special place in my heart because of what they do for us." Whatever her clients do for a living, Brittany takes them under her wing to guide them through the home buying process. "I live by a fiduciary responsibility to put my clients' needs above my own in every situation."
When she's not helping buyers and sellers, Brittany may be found at her local CrossFit gym, Olympus Fitness and Martial Arts, Busch Gardens Williamsburg or at a country music concert. While always up for an adventure, she can also be caught cross-stitching. This sibling of five has a large family that includes 32 first cousins and 37 second cousins. She likes spending time with her loved ones and says, "I'm very family-oriented." Brittany resides in Virginia Beach.
---
Testimonies
"OK, I'm glad you received the paperwork. I'm doing OK, I'm a little eager about coming home now more so than before. Thank you for the prayers, I really do need them. I really do appreciate you and Heather for all your hard work. I've heard a lot of horror stories about realtors and I know it was indeed divine intervention on my behalf, it wasn't by accident that I found SimonHouses website. I thank God for all you do for military families and helping us with our dreams. I will see you soon and I can't wait to see the pictures of the house. I wish I was a little closer so I could visit and take pictures from start to finish. Thank you again and I will let you know when I'm definitely coming home once I get a confirm flight date.!"

Nora Martin
Recent Listings
29 results, showing the first 10.